How to reach Piaski
By conference bus
Bus transportation will be organized to convey the participants from Warsaw to Piaski on September 1st and back on September 7th. The bus ride to/from Piaski takes about 4 hours.
On Sunday September 1st the buses will leave at 13:30 from the Cyclotron Laboratory of the University of Warsaw (Pasteura Street 5a). It is located within easy reach from the airport and the central railway station: on a Sunday morning it takes ~10 minutes by taxi (it costs the equivalent of 7-8 Euros). Public transport is also available: from the airport buses no. 175, 188 (bus stop BANACHA SZPITAL), from the central railway station buses 175, 128 (bus stop BANACHA SZPITAL) and tram 7, 9, 25 (stop OCH TEATR).
On Saturday September 7th the buses will leave at 7:30 and at 9:00 and go first to the airport in order to allow participants to reach the airport in time for the afternoon flights. The buses back from Piaski to Warsaw will go first to Warsaw Chopin airport, then to the Department of Physics and the Cyclotron Laboratory at the University and finally to the Central Railway Station in Warsaw.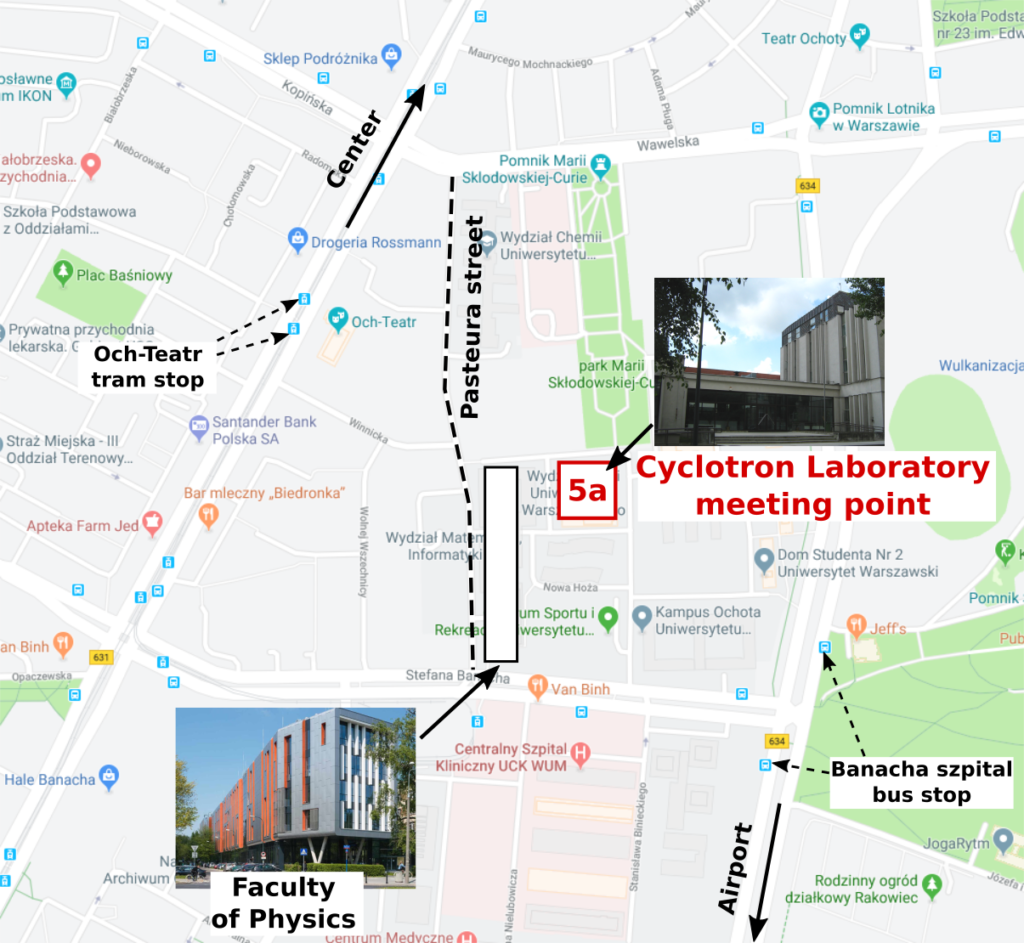 By Car from Warsaw
We suggest route S8 to Ostrów Mazowiecka, then 677 to Lomza, 63 to Pisz and 58 to Ruciane Nida.
GPS coordinates: N – 53.685813, E – 21.581018
Hotels in Warsaw
In case you need to overnight in Warsaw before and/or after the conference, you can choose one of the hotels from the list below or use common online reservation tools. Participants need to reserve the hotels on their own.
Some hotels in the vicinity of the Physics Department and the airport/central railway station: